Training & Consultancy
Businesses that perform well for disabled customers and staff perform exceptionally for everyone.
What we offer
We can create a bespoke disability knowledge and confidence programme to address issues specific to your business. Because of the amount of expertise within our organisation, we are able to tailor our support to your needs and objectivs. We work with businesses regularly to:
Deliver disability awareness training
Advise on HR policies and practices
Undertake access audits to ensure organisational buildings are accessible for all disabled people
Validate the government's Disability Confident Level 3 award
Run user-testing groups
Our expertise
We have a unique perspective on the concerns, issues and aspirations of disabled people in the UK. As an organisation which supports people with every type of disability or health condition, we can help you to employ more disabled people, help your existing employees work to their full potential and to reach more disabled customers.
Disability Rights UK consultancy services provide expert bespoke training and advice to organisations within the public, private and voluntary sectors. To date we have worked with leading organisations including Lloyds Banking Group, Johnson & Johnson, Tesco, Footlocker and South West Rail. 
Our approach
We will meet with you and key staff to look at where you are now and where you want to be in relation to disability equality in the workplace and for your customers. We will then develop a bespoke programme of training and consultancy to bring about measurable change for your organisation and a real change in attitudes and behaviours.
Our services will help you to achieve: 
Outstanding employment and HR practices  
Empower your disabled employees to perform at their best.
Review and develop your HR policies
Manage mental health in the workplace
Develop and motivate your workforce through inclusive recruitment and development programmes
Understand what disability legislation means for your business.
Ensure that your building(s) are as accessible as possible for all disabled people
Outstanding customer service
Learn how to serve your disabled customers better.
Evaluate current or test new products through user panels or by commissioning pan-disability focus groups.
Reach the disabled market by supporting or advertising in our information resources and online factsheets that reach over a million disabled people every year.
Provide customer care that exceeds expectations and guarantees good reviews
Understand the range of needs of disabled customers.
Prepare for the effect of disability legislation on your organisation.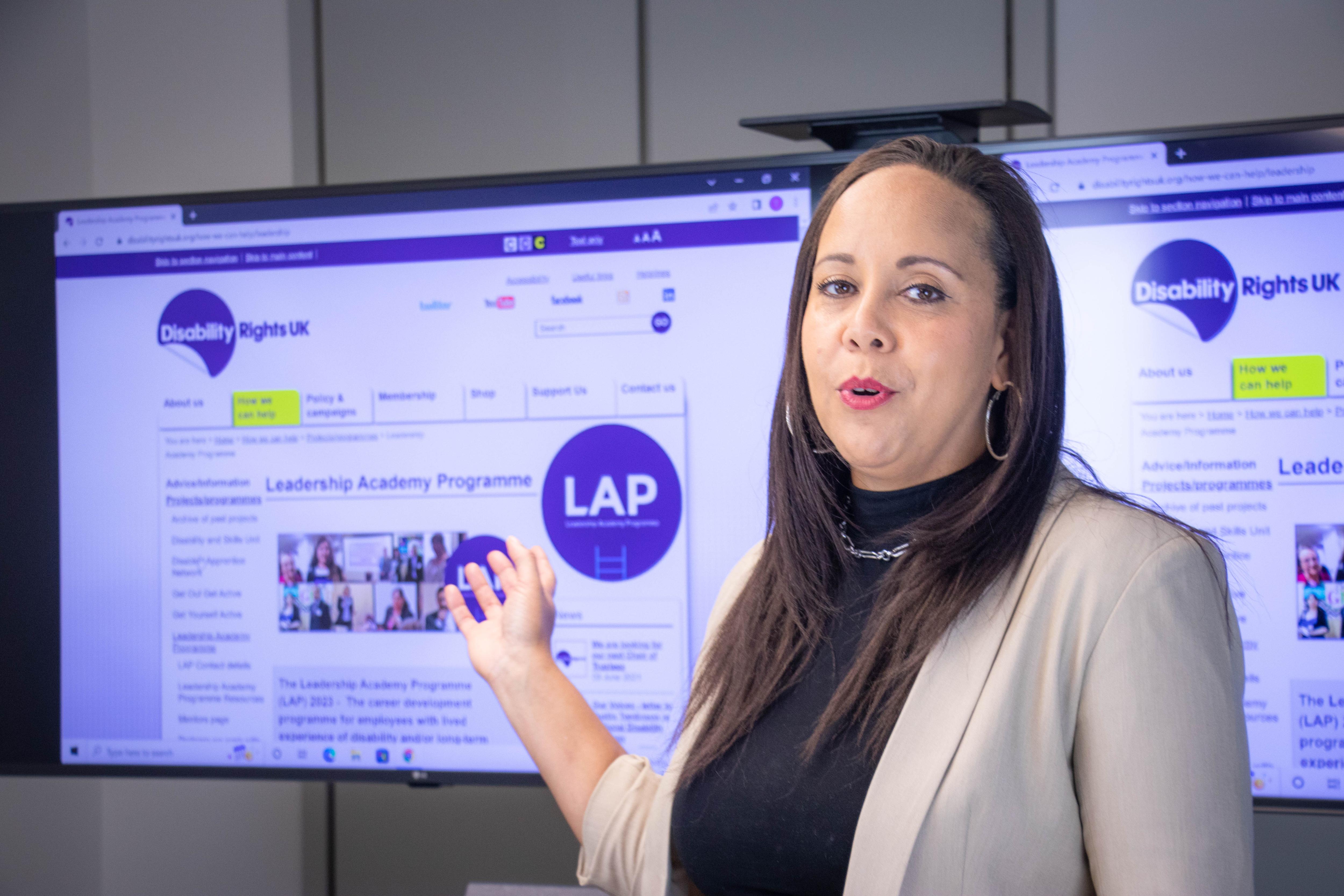 Leadership Academy Programme
The career development programme for employees with lived experience of disability and/or long-term health conditions.
DR UK is now recruiting for the 2023 cohort of its flagship Leadership Academy Programme (LAP), which we are running online via Zoom. LAP is an established leadership training for employees with lived experience of disability. 
Contact Katrina for more information about upcoming courses.